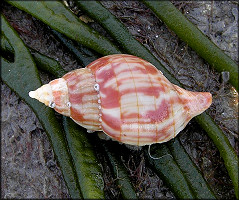 Shelling: While this area has not yielded any earth shattering finds, it has been a consistent producer of such species as Triplofusus giganteus (Kiener, 1840) (Forida Horse Conch), unusual colored variants of Cinctura hunteria (G. Perry, 1811) (Eastern Banded Tulip) [image left], Busycon perversum (Linnaeus, 1758) (Lightning Whelk),

Fasciolaria tulipa (Linnaeus, 1758)

(True Tulip), Hexaplex fulvescens (G. B.

Sowerby

II, 1834) (Giant Eastern Murex), some very large Fulguropsis spirata (Lamarck, 1816) (Pear Whelk) as well as a variety of other small species. Aditionally, it is currently the area in northeast Florida where Strombus alatus Gmelin, 1791 (Florida Fighting Conch) can be collected intertidally. One noteworthy aspect of shelling this area is the ability to park literally within feet of the prime shelling locations. However, it should be noted that during summer months on the weekends, this may not be possible. The optimal time to visit is during a minus tide when more habitat is exposed.