Probable Pomacea canaliculata (Lamarck, 1822) At Deep Creek In Nassau County
During a field survey on July 9, 2015 a breeding population of probable Pomacea canaliculata were discovered in Deep Creek on US-90 in Nassau County about 2.7 miles west of the intersection of US-90 and US-301 in downtown Baldwin in Duval County. A modest number of egg clutches were present on both the concrete bridge supports and vegetation on the north and south sides of the Deep Creek bridge. After considerable searching, one live snail was found south of the bridge. Interestingly, one Pomacea paludosa (Say, 1829) Florida Applesnail egg clutch was also present on the concrete bridge support. To the best of our knowledge, this is the first time that either Florida Applesnails or any Channeled Applesnail species have been found in Nassau County.
US-90 bridge over Deep Creek. The view is looking west towards Macclenny/Lake City.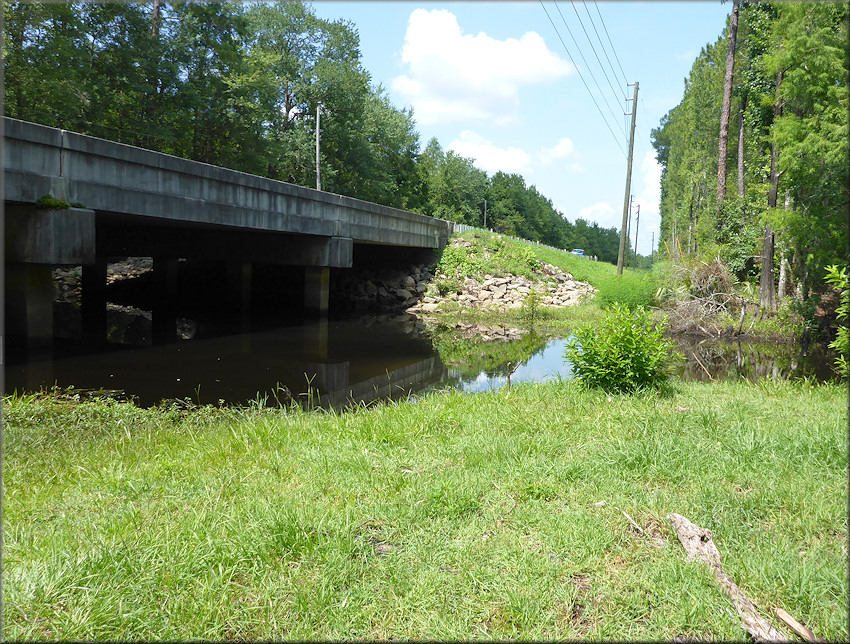 Egg clutch on cypress knee and the live probable Pomacea canaliculata found at Deep Creek